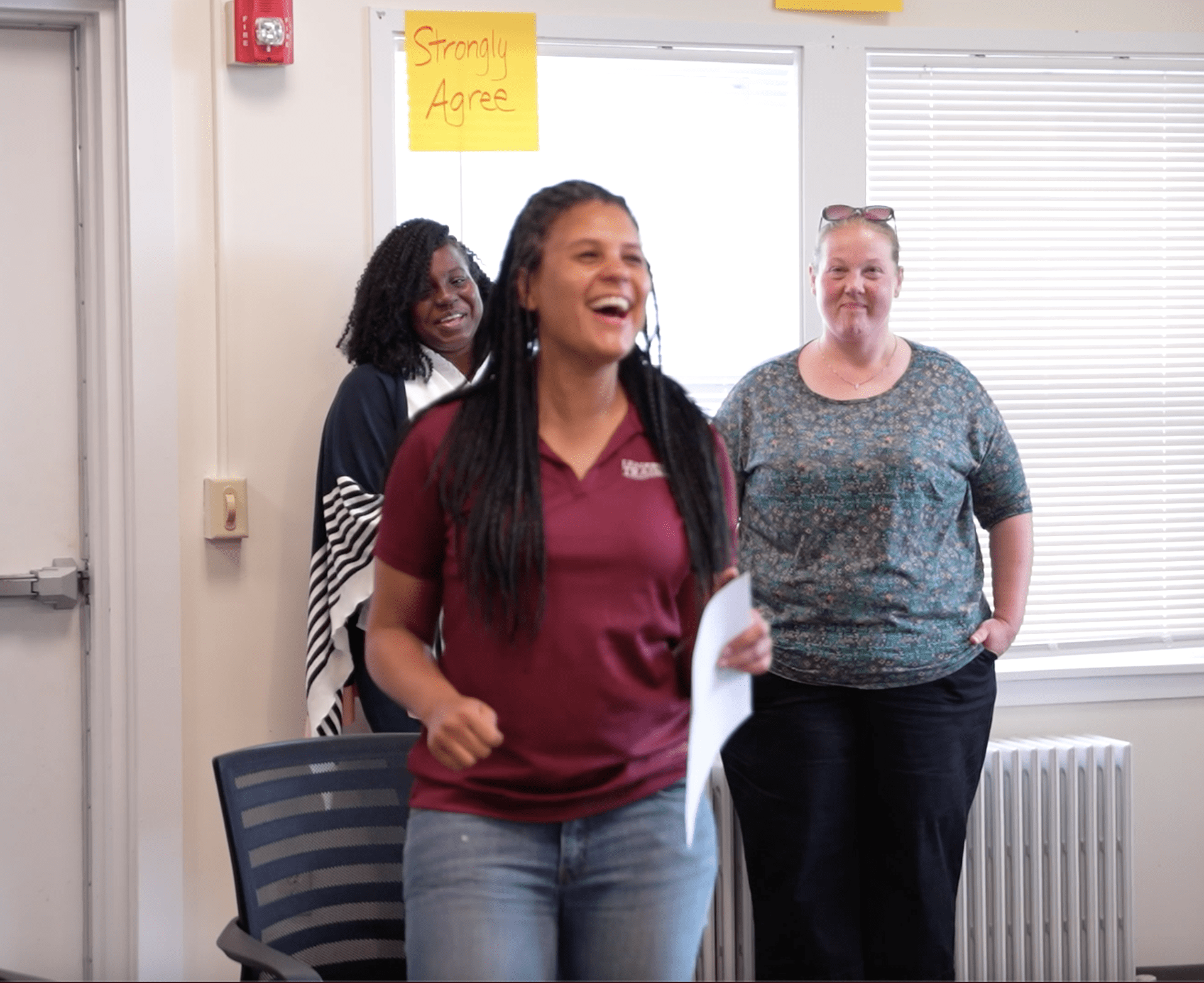 By effectively completing Leadership Trainer's Certification Program, your team members will become knowledgeable, skilled, and dynamic Certified Master Trainers who can facilitate diverse training experiences in which their participants can access the training message and material, internalize their learning, and then apply that learning to their own practice. The On Site  experience is a valuable and impactful trainer preparation experience for five core reasons:
(1) It is cost effective. Hosting the Leadership Trainer Certification Program experience on site enables substantially more members of your organizational community to participate - compared to sending your colleagues to an off-site retreat and incurring individual fees, transportation expenses, and other incidental costs.
(2) It creates synergistic connections. By bringing the Leadership Trainer Certification Program to you - on site - we will craft an engaging team-building opportunity that results in meaningful connections for members of your organizational community.
(3) It meets your organization's specific needs. In addition to our empowering  facilitation and meaningful identity curricula, we will curate deep dive sessions to emphasize the learning and development needs of your team members.
(4) It enables training cross-pollination. By delivering an On Site Leadership Trainer Certification Program, we will be preparing a large swath of your colleagues to design amazing trainings and then deliver impactful training experiences. Rather than relying solely on members of one particular department to facilitate trainings, colleagues from across the organization will be able to serve as dynamic and skilled facilitators. This can (a) enhance learning by widening the voices of training facilitators, (b) deepen connectivity to the institution and personnel by introducing colleagues to diverse team members from beyond their sphere of influence, and (c) lessen the training load of those who have heavy training responsibilities.
(5) It is confidence-raising for organizational leaders. Hosting an On Site Leadership Trainer Certification Program will ensure that at every training touch-point facilitated by your team members, their participants will be immersed in an engaging and dynamic experience in which they can access the training message and material, internalize their learning, and apply that learning to their practice. This will prove to have immediate impact as well as long-lasting implications for learning and leadership development.
Welcome and Introductions
What is Effective Facilitation?
Deep Dive: Your Curated Session
Facilitation Observations
Training Story: Exposition
Training Story: Rising Action
* This schedule is a template and is subject to change.
Daily "Good Morning" Check-In
Deep Dive: Your Curated Session
Facilitation Observations
Training Story: Falling Action
Daily "Good Morning" Check-In
Deep Dive: Your Curated Session
Facilitation Observations
Daily "Good Morning" Check-In
Training Story: Resolution
Becoming a Certified Master Trainer
Conclusionary Learnings & Insights
Optional Facilitation Workshop
What Our Participants Say
"I was never a confident person and [others] could feel that during day 1 and day 2… but now, I absorbed so much knowledge from this experience that I feel it and I know that I can use it every single day." - Reba, 2019
"Honestly this is the best training I have ever been to." - Wanda, 2019
"We live in a climate now where we keep waiting for someone to come in and rescue us… but I think what I've learned the most is that I go back to my community and it starts with me." - Habibah, 2019
"This has been quite a life changing experience for me. We learned so much not only about how to train others, but about ourselves and our leadership skills." - Flor, 2019
"It was fun. It was challenging. We felt because of the challenge the need to rely on each other so there was a lot of connection and networking that happened and I really think that I'm leaving here today with new, strong, long lasting friendships." - Six, 2019
"This experience has been completely transformational for me." - Erika, 2019
"I am leaving more authentic, more self-reflective." - Aura, 2019
"I am critically engaged and asked to reflect along the way where most conferences your only reflection is an assessment at the end." - Terrian, 2022
"I think you're going to get so much more out of this training than you ever thought you possibly could." - Erica, 2022
"What was really unique about this experience is that we didn't just go through the narrative approach to facilitation but we also experienced it with some of our deeper dives… like identity exploration components that helped us see how and who we are in order to apply that to our facilitation." - Robin, 2022
"Not only did we leave with hands-on practical resources and experiences but we also built a community." - Jagan, 2022
"Coming to this training together allowed me the opportunity to bounce ideas off of my colleague." - Jamal and Heaven, 2022
"I've definitely grown and gotten out of my comfort zone through this program." - Justin, 2022
"The fact that they're not just teaching experiential learning but they're doing that through experiential learning… I can already see how the learning will be different and more enriched by following this method." - Sarah, 2022
"The most meaningful portions of this experience have been the opportunities to put into practice what we've been learning. We've broken off into small groups and practiced aspects of the narrative training approach. And we've gotten feedback from people which has been really valuable." - Rachel, 2022
"I have grown professionally… looking at facilitation from a different lens. Not as a professor in a classroom being so much more conventional but making a deliberate or intentional decision to facilitate." - Nicole, 2022
"I wanted to be a part of this because this is such a unique program. There are very few, if any, leadership trainer opportunities. Most of the time we are learning to be great leaders.. but we aren't learning how to facilitate workshops… the unique skillsets and tools and framework to actually facilitate really good leadership training opportunities." - Chantelle, 2022 Master Trainer
"The Leadership Trainer Certification Program is so important because these are things that you don't necessarily naturally have. You're not born knowing how to train or lead others in many cases. People are more effective if they a strategy or framework to work from. We utilize the narrative framework and guide folks through the different stages of that framework and then give them hands-on tactical skills that they can then apply in their own settings." - Sarah, 2022 Master Trainer
"With the narrative approach and experiential learning you get to see real-time application of what folks learn and that's the difference with Leadership Trainer." Daymyen, 2022 Master Trainer
On Site Experience Inclusions
It's More Than Just the Retreat!
Curated training curriculum led by expert facilitators.

Networking and relationship-building with a community of passionate leadership trainers.

Hands-on learning opportunities to experiment with dynamic facilitation techniques.

Hard-copy training resources including the Preparing Leadership Educators book.

A year-long subscription to our virtual resources including videos and downloadable worksheets.

Two training-coaching sessions per participant to prepare them to become Certified Master Trainers.

Unlimited Leadership Trainer Jam Sessions with our community of Certified Master Trainers

Reduced pricing for other Leadership Trainer programming and resources.

Grants to support the leadership training initiatives of Certified Master Trainers!
Fill out the form and we'll be in touch!